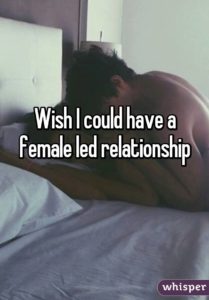 I hear on the daily from men how they want a female led relationship.
Most of the time it is whining because they can not find one, or they say there are no women who want that.
What I find amusing is that the thing they seek is normally based off of fantasy, and they are doing nothing to invite that type of woman to their space.
What I mean by this is, you are out looking for a woman based on what makes your dick hard. Then you go to her, tell her you like this and that and then you say I am yours, please violate me.
This is not serving her, this is you hoping she will serve your own needs under the guise that you are serving her.
Seriously guys, we are smarter than that!
You need to extend you scope from just one woman, to all woman.
Be the thing they seek. We have eyes and we see things!
Do not put off the poor me, I am entitled vibe. You know exactly what I mean. Don't do it!
Open doors, stand up for ladies. Pull that chair out, buy the lady behind you a coffee. Not in hopes of something in return, just to be NICE.
If someone is joking or shaming, or being derogatory SPEAK UP.
Not because we are not capable of opening doors or defending ourselves, but because you have respect and reverence for females.
Are you a feminist? If no, why not?
Does your ego hurt because it has fem in it?
Get over it!
Feminism is equal for all, and if you want a woman to see you are serious DECLARE IT.
If you are married and want more, STEP UP.
Cook her dinner, you get the groceries, absorb some of daily life from her and it will come back. Make her know her worth to you all the time, not just when it works for you.
Put her on that pedestal, and keep her there!
Communicate everything. If you are not open and real about things how are you ever going to achieve them?
Stop saying she is too vanilla, she would not want that.
Give your partner some credit! If you make some changes she too will makes changes and you just might "evolve" to the very thing you crave!
Notice how I said you?
Being in a FLR does not mean your entire life is based on what she tells you to do.
You have a brain and yes you must use it.
You will learn the looks and cues to follow her lead. Words at many times are not even needed.
Pay attention to her, learn to anticipate her needs, because I am sure she knows yours.
In all honesty, most men are halfway there already, they just don't realize it.
If you have been called pussy whipped at any point, you are halfway there!
You do not need fetish, or BDSM to have a FLR. All of that is fluff and bells and whistles.
Of course they are some fun bells and whistles, but not needed.
Just remember guys, happy wife, happy life. Also, she makes the rules, don't base you and yours to someone else. Her rules might be different because she is in charge after all!
Now here are some chores/tasks for you this week to get you off on the right foot.
Tell 5 woman how smart or intelligent they are.
Open a door for a female 10 times., car or establishment.
If you are married or attached, take 7 chores from her and do them yourself.
Tell 3 women in your life how thankful you are for them.
Send me 1 email to tell me how it went!