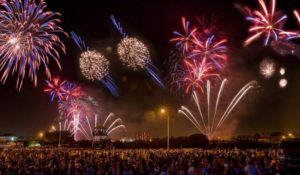 It is that time of year again, for BBQ's, swimming, sparklers, and of course FIREWORKS!
Time for everyone to get together for fun, frolic, and shenanigans!
Ahh but lest we forget, that this is not just about grilled gluttony, and pretty colored explosions.
We are celebrating becoming the United States of America. You know, land of the free, and home of the brave?
Well, we are certainly supposed to be, despite some things going in reverse as of recent days.
In these scary times with that infantile, orange, pussy grabbing, cheetoman in the most high office, we the people, need to stand together to keep EVERYONES independence and freedoms.
Enjoy your parties, parades, and light shows. Your sunburns, beer and burnt beef.
I know I will!
Now, whose penis am I going to stick a sparkler in and light? He better sing me the star spangled banner while it burns.
What can I say, I am a patriotic Dominatrix! [Laughs]