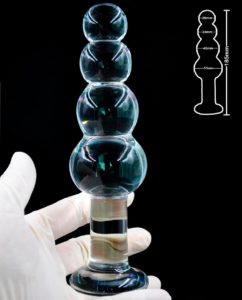 Once upon a time I had this wonderful glass toy I called the doorknob.
It was in my signature color of purple, and about 12 inches long in length.
The one end was the width of and looked like a doorknob. Then the shaft was glass bubble like spheres, that gradually got smaller. About 10 bulbs if I remember correct!
Glass anal beads of sorts, smooth and seamless, with the doorknob to control the action.
It reminded Me of a unicorn horn!
Anyways, I have a sub that recently reminded me of my glass doorknob, as he had not had it in many many years and really wanted it again.
I unlocked his sissy door with the turn of my knob, and he never went back.
Come to think of it, the amount of sissy doors I have opened over the years has been plentiful.
I still open the sissy doors, despite the fact I do not have my purple doorknob anymore.
No, I do not turn all men into sissies, but ohhh the fun I have with the ones that I do!!!!!
Besides, My strap on is my universal key, it opens all the doors WIDE! [laughs]
Side note- the picture in this post was the closest I could find to resemble my old toy, if anyone knows were to find the one like I described, drop me a note, or gift me!