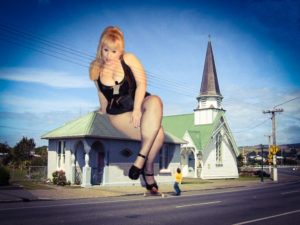 I found this picture that a fan of mine, who has a huge giantess fetish, made for me years ago.
He took one of my pictures and placed me sitting on a church, as if the church was my throne.
How fitting since today is that day of the week "reserved" for worship and prayer.
I am supposed to be the center of your universe after all! [Sweevil Laughs]
Now lets get your "blasphemy" on boys, my church is in session!
Damn, it is to bad you are not here to drink my "wine" from a golden goblet. Communion, Mistress V Style MWHAHAHAHA
Now kneel and pray to the Goddess. [Evil grin]